Do you wish you could live more simply and sustainably?
How about enjoying more freedom with your finances, and feeling able to be self-sufficient in a way that does less harm to the environment? Living in a tiny house may be the best choice for you! 
The tiny house movement has been growing for many years now, with a goal to downsize housing and promote a simple, more minimalist lifestyle.
While tiny houses are available to buy all over the world, New Jersey is one of the best locations for tiny houses.
New Jersey has a high population density and is one of the most urbanized states in the U.S. Beginning in 2018, lawmakers started seeking to rectify the increasing housing crisis by pushing a bill that would fund the building of tiny homes.
Here are 7 fabulous tiny homes for sale in New Jersey to help you see how you could be living (see also "Tiny Homes For Sale In Massachusetts To See How You Could Be Living")!
This tiny house, which is located in the township of North Bergen in Hudson County, is currently being sold for $20,000.
This is a very affordable price, and although the house could use some finishing touches, these will be easy to accomplish for a low price on a DIY basis. 
The house measures 160 square feet. The length is 16 feet, while the width measures 80 inches.
The property has one bedroom, so it's ideal for an individual person, a couple, or a small family that doesn't mind sharing a sleeping space.
There is no bathroom in the property, although there is a loft, which could be turned into a second bedroom if not needed for storage. 
Because the house is on wheels, it's mobile, and is classified as a trailer home in the state of New Jersey.
The dual axle trailer on which the tiny home is built is very robust and doesn't need any work, so you can tow your new living space anywhere you need straight away. 
This custom renovated tiny house/RV is every sustainable liver's dream.
On the market for $49,000, the price for this tiny home is not as low as some of the other options available in New Jersey, but it's also larger than many of the other tiny houses on the market, and it has been newly upgraded and renovated to ensure comfort and even luxury in a small space.
The Montville-based tiny house measures 250 square feet in total, and includes a bedroom and a bathroom.
There is no loft, which means there's no room to install a second bedroom, but there is a spacious and beautifully-furnished living space, complete with a dining table and couch. 
The tiny house shell itself is 2 years old, but it has been upgraded with customized decor, brand-new appliances, and sturdy fixtures, all of which are included in the price.
There's a bar and a fireplace, and the bathroom features a bath with a shower built-in. You won't need to do any additional work on the house before moving in. 
You can slide out the extra compartment of the RV to create more living space, and the house is built on a Catalina Legacy trailer, so it's fully mobile.
Fox Hollow Tiny House in Stockton is one of the most adorable tiny houses on the market. Its rustic exterior perfectly reflects the sustainable and eco-friendly principles behind the tiny house movement.
While the price for this tiny house is more than some of the other options you'll come across looking for a tiny home in New Jersey ($54,000), it's definitely worth it if you're looking for a small living space that offers plenty of privacy for multiple occupants.
Although the Fox Hollow tiny house only measures 115 square feet in total, it has 2 bedrooms as well as 2 lofts (which could be either bedroom or storage spaces if needed).
There's also a bathroom, which contains a composting toilet and a shower. 
You can convert your lofts into extra bedrooms without worrying too much about storage space because there is storage built into the ottoman and sofa, as well as hanging storage and cabinets.
The house also comes with an induction cook top, refrigerator and freezer, toaster oven, paddle fan, and propane stove.
The skylights flood the space with natural light, while the dimmable stain glass sconces provide artificial lighting at any time.
If you're looking for both a tiny home and a renovation project, consider investing in this tiny house shell, which is built on a foundation and currently located in East Brunswick.
Currently, this shell is a barn-style shed on a property, but it needs to be removed for jurisdictional reasons.
The shell measures 10 feet x 20 feet, totaling 200 square feet. It's a fireproof build thanks to the inclusion of DensGlass panels, and includes windows.
Although plumbing and electricity are, of course, not yet installed, the build is ready for an installation procedure to be conducted immediately. 
An insulation bin comes with the shell. While there are no internal rooms built into the shed yet, this can be done after transporting the shed to your location.
The going price is $15,000, although this does not cover the cost of transport or any additional work. 
The beauty of this tiny house option is that it's essentially a blank slate that you can renovate to make it entirely your own!
Another tiny house on wheels you should consider buying if you're looking for a mobile tiny home is this build in Passaic County.
Going for $70,000, this tiny house has everything you could need from a sustainable and downsized home. There's a bedroom and a bathroom, as well as 2 lofts, all contained within 240 square feet.
The kitchen space comes furnished with a dual-burner electric stove top, a microwave, an oven, and an air fryer. The refrigerator comes with a top freezer, and you'll also get a washer-dryer.
Meanwhile, the bathroom features a corner shower, which will always have enough hot water thanks to the 7-gallon heater and water reserve tank.
In the living space, you'll find a wall-mounted television, and although one of the lofts is currently dedicated to storage, you can turn it into a bedroom to make 3 bedrooms in total, including the sleeping loft.
This unique-looking tiny house is easily recognizable thanks to its bright blue exterior paint, but that's not the only thing that makes this tiny home special.
The blue tiny house in Brick is on the market for $45,000. This is a mobile build that is easy to transport. It features a bedroom, bathroom, and loft space, and only measures 144 square feet.
In addition to the bedroom and bathroom, there's a furnished kitchen space that includes a refrigerator, complete with a freezer. A table is included with the price, which folds out and can be used for either dining or as a work space.
Your tiny home will get plenty of natural light from the large windows, and you'll also have a consistent supply of water from the 30-gallon fresh water and gray water tanks.
This tiny home, situated in Egg Harbor Township, is toward the larger end of the scale for tiny houses (see also "Tiny Homes For Sale In Maryland To See How You Could Be Living").
A tiny house is generally defined as being smaller than 450 square feet, and this build measures 320 square feet, which is more than most tiny house builds.
In addition to a bedroom, there are 2 lofts, which can be used for storage or extra sleeping spaces, depending on your preference. This means that the build can be suitable for single occupants, couples, or families.
There's a bathroom and kitchen/living space inside the home as well, and because it's built on a trailer, it's fully mobile.
One exciting thing about this particular tiny home is that it also features a deck and a shed. The deck is currently bare, but if you want space for a hot tub, this could be the perfect space to install it.
Because of the additional features, this tiny house retails for $1234,900. 
The deck and shed are not mobile, so anything that you install based on either of these structures cannot be transported with you if you use the home itself as an RV.
Final Thoughts
If you're looking for your perfect tiny home in New Jersey, the good news is that there are plenty of options to choose from!
Whether you're looking for a mobile or stationary tiny home, one bedroom or several, there's a tiny home in New Jersey to suit you. 
For those looking for economical and sustainable renovation projects, there's also the option to purchase an unfurnished tiny home shell in the form of a shed or barn at a reduced price and pay for renovations separately.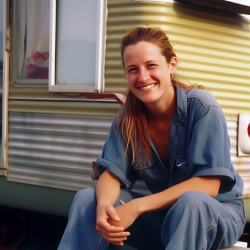 Latest posts by Casey Rutherford
(see all)