With its diverse landscapes, and rich history and culture, North Carolina is a popular place to live, but with the increasing cost of housing and living, more and more people are beginning to consider the alternatives to the ways of living we're all so accustomed to, which is why container homes are beginning to become more and more popular.
Not only are these homes much more affordable than the standard home, but they also tend to be much better for the environment too, plus the customization you can have while designing one of these homes makes them an attractive option for those who are looking for a new way to live.
So, whether you currently live in North Carolina, or you're considering moving there, these container home builders should be able to provide you with the space you need to be able to live comfortably and freely in North Carolina!
If one of the main reasons for your desire to swap out your regular home for a container home is to do with sustainability, then Craftspace are the container home builders that will have your best interests in mind.
This company is dedicated to making use of old shipping containers that no longer have a use or a purpose by turning them into fully furnished homes that are ready to be enjoyed.
Craftspace makes use of some especially innovative and creative building solutions and technologies to be able to provide people with their very own container homes.
They also do lots of work within their local community too, as they produce offices, studios, and even schoolhouses, all of which are used to benefit those who live nearby.
Their team of designers is composed of a variety of forward-thinking individuals who will all be able to help you design the perfect container home for you to live in, and not only will your container home look good from the outside, but it will also look great on the inside too.
So, for anyone in North Carolina who is looking to create their own container home, then it's worth getting in contact with Craftspace, who might just be able to make your dream container home a reality!
With years of experience when it comes to building customized container homes in North Carolina, Doron Builders are experts in providing people with alternative living spaces, which makes them the perfect company to get in contact with if you're considering making the switch to one of these sustainable homes.
Doron Builders offer both pre-designed container homes, as well as custom jobs too, so you can take the hassle out of designing your own container home simply by choosing one of their preset options, or you can work with them to create something unique, which is wise if you're looking for a container home like no other.
You can also work with the team at Doron Builders to create an interior that is going to suit your budget, so if you want to strip out some of the unnecessary inclusions to help cut back on costs, then they can certainly do that for you.
Overall, Doron Builders' experience in construction and in the market of building container homes makes them a great option for anyone looking to create their dream container home in North Carolina.
Located in Wilmington, North Carolina, L.S. Smith Inc has plenty of experience in both the residential and commercial development industries, which means that when it comes to creating the container home of your dreams, they should be able to help turn it into a reality.
The shipping containers they used are all unique and are designed to be used for shops and commercial spaces, or for people to live in, with the idea being to re-use as much scrap and materials that would otherwise be wasted as possible, which helps to promote sustainability in both the local area and beyond.
One of the best examples of the work done by L.S. Smith Inc is known as "The Cargo District", which is a small community of nine work and living shipping container units, each featuring 600 square feet of space for people to enjoy.
The company also offers a range of other services that will help to ensure that your conversion to the container lifestyle is a success, so you'll be comfortable in your container home in no time at all!
Amongst their vast array of services, Magnum Design Build has also undertaken many incredible container home products throughout their years of operation, which means that for anyone in North Carolina who is looking to create their very own shipping container home, Magnum Design Build will be able to help you achieve your dream container home.
Magnum aims to create something novel, functional, and original, which means that your home will stand out from the rest.
They produce everything in 3D design first to provide you with a better idea of what your new home will look like, before sending the designs for it to be pre-fabricated and built.
Everything they build is completely within housing regulations and requirements, and they've built some special container homes throughout their years of business, so if you're based in North Carolina, and are looking for a bespoke container home, and well-crafted, then Magnum Design Build will be the company you should contact.
Situated in Asheville, three decades' worth of experience means that RLC are a leader in their field, and is passionate about providing its customers with exceptional service, and great housing options too.
Although it's not their main focus, RLC has and still does produce incredible container homes for people who want to try something new in terms of the way they live (see also "Incredible Container Homes Off The Grid For Free Living").
These homes are all about reusing materials and containers that would otherwise go to waste, and using them to create something special that is going to withstand the tests of time.
They have many different container storage options available, so you can customize your new home to your liking as well, and with all shipping container homes, you'll be granted much more in the way of customization options!
So, if you've been considering a shipping container home built in North Carolina, then RLC Service Group will help you to achieve that free-living lifestyle with no hassle.
Final Thoughts
We hope you've enjoyed our guide to some of the best incredible container homes in North Carolina (see also "Incredible Container Homes Airbnb").
The prospect of living in a container home is one that many people are beginning to consider, especially those who want to live freely, and with the help of one of these companies, you'll be able to create your own container home with ease.
No matter whether you choose Doron Builders or Magnum Design Build, there is a range of different companies here that can provide you with all types of living spaces, so you're bound to find one that is right for you.
If you have some unanswered questions about container homes, and what it's like to live in one, we've included a helpful FAQ guide, which will help to answer some of the most commonly asked questions about this unique way of living!
Frequently Asked Questions
Are Container Homes Expensive? 
Just like normal houses, shipping container homes can vary in both size and therefore price. The cost of your container home will vary depending on whether you choose to buy a preset option or choose to customize your own. 

The average price for one is typically around $35,000, but larger ones can cost as much as $175,000!
Are Container Homes Legal In North Carolina?
Yes, shipping container homes are completely legal in North Carolina, but just like building a new home, there are some rules and regulations you'll need to follow. 

To have a shipping container home built in North Carolina, you'll need to be granted an appropriate permit from the authorities, who must view the plan for your container home, and deem it suitable to be lived in by both humans and animals. 

Only once this permit has been approved will you be able to build your new home. 
How Long Will A Shipping Container Home Last?
This is a question asked by those who are considering switching from traditional housing to container homes and is one worth knowing the answer to if you plan on living in your container home for the long term. 

If a shipping container home has previously been used and is being upcycled, then it will typically last for 15 years before it needs major maintenance, while brand-new containers will be able to last for around 25 years.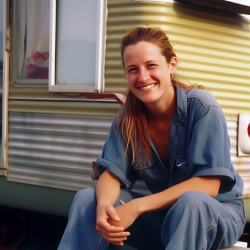 Latest posts by Casey Rutherford
(see all)