Maryland has hopped onto the bandwagon of small homes with houses that are smaller than 1,000 square feet! These homes are attractive thanks to their economical and mobile design.
Essentially, they are a simpler way of living due to reduced energy costs, plus, you don't have to worry about cleaning tons of space – therefore, everyone wins!
Due to Maryland's location in the Mid-Atlantic and its close proximity to Kentucky and Ohio – residents here are offered to some of the best tiny home builders in the country.
Plus, since most of these homes are built on trailer chassis, it means that buyers can purchase a tiny home on wheels from out-of-state and take it anywhere in Maryland.
To help you find on your search for the best tiny homes for sale in Maryland, we have outlined the most mobile, affordable, and small square footage homes to get you started.
With this in mind, this article will provide you with everything you need to know about purchasing a tiny home in Maryland, including some of the best options for sale, as well as frequently asked questions.
Let's get started.
Tiny Homes In Maryland
If you're looking for a truly tiny home, then look no further than this Cool White Tiny House – it is the perfect example of what a tiny home lifestyle is.
This home can be found in Salisbury, Mayland, and it is dependable on a first-come-first-serve basis.
The beauty of this tiny home is that it is energy efficient, incredibly lightweight, functional, and, the most important factor, super cozy!
Inside the home, you'll find custom lower and upper cabinets that are composed using real wood, as well as a decent-sized refrigerator, a large shower, a full-size futon bed, a propane oven, and a basin sink.
In addition to this, you will also be provided with low-power air conditioning, an on-demand water heater, solar-powered lights, and a 30-gallon water tank – all these things come together to make your home more energy-efficient than ever.
Plus, thanks to the heavily insulated walls and ceilings, your home will remain warm in even the harshest of winters – you don't have to worry about any drafts or chill!
The home is composed of 112 square feet of living space and comes to a total price of $27,000.00.
The builders behind Modern Tiny Living provide you with four different types of pre-designed tiny houses – each available in a range of different sizes to choose from.
In addition to this, they also work on projects where you're provided with a fully customizable experience. Each house contains built-in furniture, and customizable features, and is fully mobile.
One example of their tiny houses includes "The Point". This features lumber framing with double-paned, tempered glass windows.
The kitchen features a retractable faucet and a large sink, as well as a butcher block or wooden countertops.
Depending on the additional features you include, this tiny house starts at $400 a month.
You can find this lovely cabin in Hollywood, Maryland. It features bunk beds, a fully equipped bathroom with an impressive shower area, as well as a sink, vanity, and toilet.
The beauty of this cabin is that it comes with electricity, air conditioning, and heat included, therefore, no matter what time of the year you're staying, you will remain comfortable.
In addition to this, you'll find two lofts in the tiny house, as well as a decent-sized bedroom, too. Plus, since it is mobile, you can stay in some of the most amazing places in the world in the comfort of your home.
For 240 square feet of living space, the price of this tiny home comes to $18.000.
Based in Ohio, Maverick Tiny Homes offers customers three different styles of tiny homes.
Plus, you can even modify or fully customize whatever tiny house you choose in their catalog.
In addition to this, they provide you with a few luxury upgrades that make an off-grid living even more comfortable.
One of their designs includes "The Expedition", which features LP SmartSide Siding, a secondary loft, and custom built-in cabinetry. 
Their products range between $402-$404 per square foot.
As its name suggests, this tiny home is nothing more than dreamy! The home itself is located in Baltimore and has a stunning, quaint wood finish.
While it may be one of the pricier tiny homes on the market, it is certainly well worth the money.
It features a bedroom large enough to fit a queen-sized bed, a delightful propane fireplace located in the fireplace, and a beautiful spice rack that can be closed away when not in use.
Plus, you'll also find two lofts featuring 4-foot high ceilings. Here, you have extra space for anything from storage, a play area, or even an extra bedroom.
The beauty of this home is that the insulation goes above and beyond. You'll find it in everything from the ceilings to walls, and floors. Plus, the windows feature Vinyl Thermo-Pane – so you don't have to worry about those chilly winters!
Likewise, you can expect all the latest additions with this tiny home, too – including ceiling fans, cable outlets, heating, and a 20-gallon electric water heater.
For 399 square feet of living space, you can expect this tiny home to come to $73,000.
With their headquarters based in Pennsylvania, Liberation Tiny Homes provides customers with custom-built and pre-designed tiny homes for anywhere in the state.
In their catalog, they currently have three different styles. Each one provides a unique offering. For instance, some models have a first-floor bedroom, single and double lofts, built-in workspace, sheds for extra storage, and much more.
One of which includes the model "Aframe" which provides you with a modern and stunning design. 
Their designs range from $222 to $368 per square foot.
If you're looking for a delightful house, then look no further than this Like New Tiny Home. It was previously used as an Airbnb but has since been transformed for selling.
You can find this home in Glen Arm, Maryland, which features two sleeping lofts. The first room consists of a king-sized bedroom, while the other contains a twin bed with a ladder.
The eat-in kitchen features a decent-sized refrigerator, as well as an oven and a four-burner gas stove.
In the living room, you'll find a large window letting in tons of light, a wall-mounted TV, a sleeper sofa, and an electric mini-split.
When it comes to heating up this tiny home, you'll find a propane eco-temp water heater. In the stunning bathroom, you'll find a full-sized shower, a sink, and a toilet.
For 192 square feet of living space, the price comes to $42,000.00.
Mighty Small Homes is a unique builder when it comes to tiny home designs. They are headquartered in Louisville and ship their homes all around the state.
Here, they design and sell a wide variety of home-building kits that are made using structural panels. These kits contain everything to make tiny homes to smaller square footage homes (up to 1,500 feet).
Depending on the type of package you select, you can opt for different finishes and interior framing materials in the kits.
An example of one such design includes "The Tiny". The packages range from $140 to $328 per square foot. 
Located in Severna Park, Maryland, this rustic, tiny home is a four-year-old structure that is in perfect condition.
Inside the home, you'll find one room and a separate bathroom. In addition to this, you'll find a kitchenette, electric heating, air conditioning, a water heater, and a refrigerator.
Despite its small size, the high ceilings and the large windows make the space feel much bigger.
Since this tiny home can be moved from location to location, it is ideal for anyone who loves to travel. Plus, it is recommended for those looking for a greener and more economical way of living.
For 350 square feet of living space, the tiny home comes to $30,000.00.
Final Thoughts
Not only are tiny houses adorable but they are more economically and environmentally friendly, too. If you're looking to live on a budget, they could be a good choice for you.
The beauty of these houses is that they usually come on a trailer, meaning you can travel around the country in the comfort of your home.
Hopefully, this guide has informed you about the best tiny home for sale in Maryland (see also "Tiny Homes For Sale In New Jersey To See How You Could Be Living").
Frequently Asked Questions
How Much Do Tiny Homes Cost In Maryland?
You can expect a tiny house for sale in Maryland to cost around $140 to $ 500 per square foot from an out-of-state company that manufactures these houses.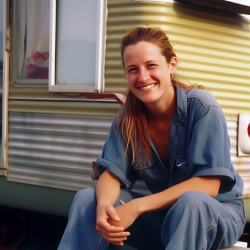 Latest posts by Casey Rutherford
(see all)