If you've ever wondered what it would be like to live in a tiny home, Massachusetts is the perfect place to explore your options.
In this article, we've gathered 6 fabulous tiny homes for sale in Massachusetts that showcase the endless possibilities for living small.
So, whether you're looking for a fully equipped home or a customizable shell to build on, keep reading below to get inspired by these tiny homes!
This one-of-a-kind, handmade tiny home in the heart of Massachusetts is the perfect one to start our list with!
Built with local pine that was sustainably harvested, this tiny home is truly unique.
The interior boasts a 100-gallon freshwater tank, a composting toilet, and a 32×32 shower with an electric water heater (with a gas option), making it fully equipped for comfortable living.
Storage is not an issue in case you're wondering where you'll put all your stuff as there's ample space available under the stairs and a pull-out couch for additional sleeping arrangements.
Equipped with a cubic mini wood stove and electric backup heating system, you will also feel warm on cold days, but you will also be able to enjoy natural light streaming in through the skylight for some natural warmth on warmer days!
Last but not least, built on a 14k dual axle trailer made specifically for tiny homes, this tiny home boasts R30 insulation on the floor and R18 insulation in the walls and ceiling.
So, keep these features in mind as you will need to make sure that your tiny home will be warm in the winter!
If you want to live a life full of adventure and freedom, then you need something like this fully converted 2008 Dodge Sprinter van!
This beauty is road-ready and waiting for you to hit the open road, which is perfect if your life goal is to be waking up to a new, breathtaking view every day, with the world as your backyard.
This van has been well-maintained and with new pads, calipers, and rotors, you'll be hitting the road with confidence.
The 3.0-liter turbocharged diesel engine has clocked 237,000 miles, but don't let that fool you! With the intake manifold work done, new glow plugs, and a new steering column, she's ready to take you on your next adventure.
The camper section of this van is fully equipped and includes a 200-amp hour lithium phosphate battery, 200 watts of solar, and a 40 MPPT solar charge controller, so you can stay off-grid for as long as you want.
Plus, you'll have a 50 qt electric fridge, dimmable puck lights, USB and DC power strips, and a 1500-watt inverter, providing you with all the modern comforts of home while you're on the road.
With 12 gallons of clean water plumbing with a foot pump, you can even shower on the go – and when you're ready to unwind after a long day of exploring, the GPS screen with Apple/Android CarPlay compatibility and new Infinity speakers will provide the perfect soundtrack for your adventures.
We know that you might not be ready to make a purchase just yet, but this one's a gem!
the chances are that you are considering living in a tiny home to lead a more sustainable life (see also "Tiny Homes For Sale In New Jersey To See How You Could Be Living"), so imagine living off-grid in a tiny house like this, that's been built with great attention to every detail, using all-natural, mold-proof, and non-toxic materials!
Sounds like a dream come true, right?
Not only does this tiny home tick all these boxes, but it also comes with a modern design that is sure to amaze you.
With an 8'x16′ trailer, this tiny home has been carefully crafted with steel-framed walls, mineral wool insulation, and continuous rigid foam on the exterior.
The roof is equipped with 4″ XPS foam on top of the plywood ceiling, ensuring that the house is well-insulated, reducing all thermal bridging, and making it energy-efficient.
Inside, you'll find a bathroom with a composting toilet, shower, and exhaust fan, along with a kitchen that has a 2-burner electric cooktop and sink.
The built-in bench and full wall of shelving provide ample storage for all your personal supplies and books while the sleeping loft and second storage loft with a water tank can help you maximize the available space.
Moreover, this house is equipped with a 2-panel PV system with battery storage, an electric water heater, and a solar hot-air panel that circulates and heats the indoor air when the sun is shining.
There's also a small wood stove with wood storage below that adds a cozy ambiance to the living space, making it a true reflection of sustainable living and perfect for those who want to disconnect from the grid and live a simpler life, without sacrificing comfort or style.
Fully-furnished and 100% ready tiny homes are ideal for people who don't want to bother with the details, but sometimes you want to decorate and design your home on your own.
In that case, unfinished tiny homes like this one are the best option as you get to put your own finishing touch on a beautiful off-grid or on-grid home.
This tiny home comes with a heavy equipment trailer chassis that provides a sturdy foundation, giving you the freedom to take it wherever your heart desires.
With 400 watts of solar power and a 100-gallon water tank, you can live completely off the grid, enjoying the peace and quiet of nature without sacrificing any modern conveniences.
The full shower stall and set-for-on-grid-or-off-grid toilet offer a luxurious way to clean up after a day of hiking or exploring, while the 12V refrigerator and Grey Stone Gas Range and oven give you plenty of space to store and cook your favorite meals.
So, if you wish to live life on your terms and have the freedom to finish your tiny home yourself, buying a tiny home like this one is the way to go (see also "Incredible Container Homes In California For Free Living")!
Another fully customizable model for a tiny home to fit your needs and style is The Hoosic!
It's a lightweight, towable house that can sleep up to 4 people with a kitchen, bathroom, and cozy loft for sleeping.
But what's really great about tiny houses like this one is that you get to choose your own materials, fixtures, and colors!
Want a Corian countertop or shiplap walls? You got it! And if you're not sure what options are best for your lifestyle, no worries, B&B Tiny Houses will help you out.
Plus, you can even rent a Hoosic Tiny House overnight through Try It Tiny to get a feel for what it's like to live in one.
And the best part? All B&B Tiny Houses on wheels are RVIA-certified, so you can even finance it like an RV.
So, if you're looking for a unique and customizable living space that's eco-friendly and budget-friendly, the Hoosic Tiny House or anything similar to it is definitely worth checking out.
Last on our list of inspirational tiny homes in Massachusetts is this 28′ x 8'6″ professionally built tiny house shell.
Built on a custom trailer by a reputable east coast manufacturer, this tiny house shell has everything you need to get started.
The trailer features 3 Dexter 7000# axles, auto FSA electric brakes, and a 10k drop leg jack bolted in place.
Thanks to the structural square fenders and stud-mounted LED lights, this home already comes with a touch of style, while the breakaway kit with charger and tester provides added safety.
Nevertheless, the trailer is fully customizable to your preferences, and all specs can be provided upon request, making it another great option where the constructor has added their own details but left you with plenty of room to do your own thing.
As for the insulation, with a 5″ closed cell spray foam on the floor and 3/4″ Advantech flooring, rest assured that your tiny house will be well-insulated and sturdy.
And with room for a 5' bathroom and a 7′ 2 " loft, this tiny house shell offers plenty of space to make it your own and endless customization options!
The Bottom Line
Living in a tiny home is a unique and exciting way to downsize and simplify your life, and with the variety of tiny homes for sale in Massachusetts, you can find a home that fits your lifestyle and budget.
From sleek and modern to rustic and charming, the possibilities are endless, and we hope our selection of 6 fabulous tiny homes has given you a glimpse into the beauty and practicality of living in a small space (see also "Tiny Homes For Sale In Indiana To See How You Could Be Living").
So, take the first step towards a simpler life and start checking these tiny homes today!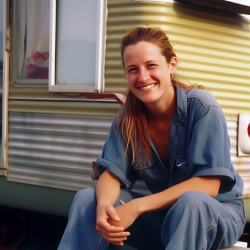 Latest posts by Casey Rutherford
(see all)