Are you in the market for a new home? Want to downsize, simplify, and embrace the tiny house movement? Then you're in luck!
We've searched all over Indiana to bring you the 5 best tiny homes for sale in the Hoosier State; from custom-built beauties to brand-new models, these tiny homes offer all the amenities and charm you could want in a compact package.
All these tiny homes offer a unique and practical solution for those seeking a simpler way of living (see also "Tiny Homes For Sale In New Jersey To See How You Could Be Living"). With a smaller footprint, they are also definitely more affordable, energy-efficient, and require less maintenance than traditional homes in the state!
So, whether you're looking for a permanent residence, a weekend getaway, or an off-grid oasis, we've got you covered.
All you have to do is keep reading below to get some inspiration (or some real estate agency numbers) that will get you one step closer to seeing what it's really like living in such unique and cozy homes on wheels (see also "Incredible Container Homes In California For Free Living")!
The benefits of downsizing are undeniable, and this 14×24 home in Indiana is a perfect example of how you can have all the space you need while maintaining a small footprint.
With its open-concept living space and ample natural light, this home feels anything but cramped. Plus, with 9ft walls and vaulted ceilings, you'll enjoy a sense of expanse that's hard to come by in other tiny homes!
The shiplap walls are made of actual wood, not particle board or compressed cardboard, which means they'll last the lifetime of the home.
And with hardwood trim around the windows, doors, and baseboards, this home is as durable as it is beautiful; it even accommodates standard-sized appliances, making it easy to source replacements when needed!
This tiny home in Bloomington, Indiana will make you feel at home right away!
With dimensions of 20×8.5 ft, this home is the perfect combination of style and functionality, built between May 2022 and October 2022.
With features like a liquid propane on-demand hot water heater and a mini-split system for heating and cooling, this home is designed for your comfort all year round.
And the lightweight, durable steel panel siding and roof mean you can take your home with you wherever you go.
Inside, you'll find plenty of built-in storage space, including a closet, laundry hamper, fridge, pantry, drawers, open shelves, and a shoe rack, all tucked away in the stairwell.
The waterproof luxury vinyl plank flooring throughout makes cleaning a breeze, and the 34″x36" shower with a waterfall shower head and a standard flushing toilet means you'll have everything you need to feel at home.
Moreover, with 8ft of kitchen cabinet space and 10ft of a countertop, you'll have plenty of room to prepare your favorite meals.
And if you are all about getting the most for the price of it, you'll be happy to know that the stainless steel kitchen sink even comes with workstation accessories, a cutting board, a drying rack, and a colander.
If there's one thing you should be 'warned' about it's that this tiny house requires a 50amp electrical hardwired hook-up. But don't worry, as a plug-in adapter can be installed if needed.
And with all wastewater drains stubbed out under the house, you can hit the road with confidence, as you can simply connect your freshwater using the standard RV inlet water connection!
If you're dreaming of a tiny house that doesn't skimp on the amenities, then something like this custom-built gem is where you should live in!
With quality and craftsmanship in mind, this 8.5ft x 20ft tiny house is perfect for those seeking a cozy yet comfortable living experience.
The insulated 2×6 walls and shingled roof provide excellent insulation and protection from the elements, while inside you'll find a spacious bedroom with plenty of room for a queen bed and all the necessary reading lamps and overhead lighting.
The kitchen is fully equipped with custom butcher block countertops, a sink with a removable cutting board, and even a mini fridge to keep your food and drinks fresh (tiny house parties, anyone?).
Or, if you want to have a romantic dinner, the under-shelf lighting options can easily set the mood for that!
The bathroom is equally well-appointed, with a 32" square shower, overhead lighting and fan, and an RV-style toilet.
Last but not least, a mini-tank water heater ensures that you'll never run out of hot water in the shower, so don't think of that as an issue at all.
If you want to live in a tiny home in Walkerton, then this is a perfect tiny home example to give you some inspiration for that.
Constructed in 2018 this tiny home is a great option for anyone looking for a fully-equipped and stylish living space!
Built on a sturdy tubular chassis with 7000 lb brake axles and 16″ wheels, this 22ft x 102ft home is built to last. And with full R30 insulation built to IBC standards, you'll be comfortable no matter the weather outside.
Inside, you'll find all the modern amenities you need to feel right at home: the kitchen includes full-sized appliances, including a microwave, glass cooktop, and refrigerator, as well as a bar top with bar stools for comfortable dining.
In the lounge area, the leather sofa sleeper is perfect for relaxing after a long day, and the mini split heat/AC system ensures you'll be comfortable no matter the season.
Upstairs, you'll find a full-size bed in the loft, as well as a second storage loft and a washer/dryer unit for added convenience.
The bathroom features a spacious 32″ shower and a standard toilet with sewer drop. And with 50 or 100-amp all-electric service, you'll have all the power you need to run your new home.
The interior of this tiny home is truly a sight to behold, with 5/8″ white pine plank boards, white washed ceilings, and a 32″ flat screen TV with a swivel mount, while the remote control multi-color accent lights add a touch of ambiance to the space.
So, if you're looking for a fully-furnished or empty living space, this 2018 Titanium Tiny Home is ready for you to move in and make your own – it also comes at a great price at the moment, so if you are interested in buying your tiny home today, this might be the one!
If you fancy a tiny home that can take on any adventure, this is the ultimate inspiration as with over $20k in materials alone, you can expect nothing but the best!
Built by a master carpenter as a demo model, this tiny home on wheels is made to last with sheet metal wrapping and beautiful cedar siding.
Inside, you'll find all the amenities you need for a cozy off-grid cabin experience: there's a composting toilet, sink, propane stove, shower, fridge, and even a propane wall mount heater to keep you warm on chilly nights.
In addition, this tiny home was designed to be completely off-grid – and not just because it's tiny –, so you can set it up for water collection and solar power (even though the kit is not included).
As for its size, approximately, we are talking about 112 square feet, but with two lofts, you'll have plenty of space to stretch out.
The larger loft can fit a queen-sized bed, while the smaller one is perfect for storage. And if you're worried about the height, don't be!
The ladder tucks away and locks into the floor when not in use, and the tiny home is just under 13 feet from the ground.
However, if you are looking to fault this home, then you could say that its weight, coming at just under 7000 lbs, might be an issue.
Still, we would argue that and tell you that with a 3/4-ton truck, you could pull it… and it would be worth it. So, whether you're looking for a tiny home, hunting cabin, or pond getaway, this one is sure to impress!
The Bottom Line
It's easy to see why living in a tiny home is the way to go as it really is an experience unlike any other, and Indiana offers some incredible tiny homes for those looking for a simpler and more efficient way of living (see also "Tiny Homes For Sale In Massachusetts To See How You Could Be Living").
From the modern and sleek design of the first home we looked at, to the rustic charm of the sheet metal-wrapped tiny home, there is a tiny home for every taste and budget.
The custom-built home with all the amenities is perfect for those who want a luxurious and comfortable living experience in a tiny space, while the 2018 Titanium tiny home is a great option for those who want a slightly larger living area with full-size appliances and stylish interiors.
And let's not forget the affordable and eco-friendly options like the tiny house on wheels built for off-grid living, and the charming cabin-like tiny home. With so many great options, you should already be booking your viewings!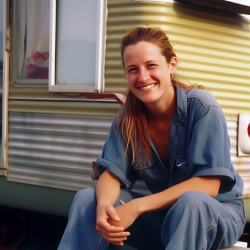 Latest posts by Casey Rutherford
(see all)