Container homes are some of the most economical and sustainable living situations, and while it's relatively simple to build your own shipping container home, you can also purchase one to avoid doing all the work yourself.
If you're based in Arizona and are looking for a container home to downsize your living space, reduce your carbon footprint, and make your lifestyle more affordable, this is the guide for you.
The best way to get a container home is to buy one through one of the several companies manufacturing container homes in Arizona.
We're going to be recommending 8 incredible container homes in Arizona for free living, so you can live the eco-friendly and untethered life of your dreams (see also "Incredible Container Homes Off The Grid For Free Living")!
Linked Equipment is the container home manufacturing company in Arizona that you should choose if sustainability is your priority.
The container homes constructed by Linked Equipment are made with eco-friendly materials, and the building techniques are also chosen because of their low impact on the environment. 
Linked Equipment is also an excellent company to choose if you're worried about the cost of purchasing a container home, because their designs are some of the most affordable on the market, even when you opt for extensive customization.
It's not just buying a container home that Linked Equipment can help you with, either.
When you start making inquiries about buying a container home, the experts will guide you through the permitting process, and there are also teams dedicated to custom designing, consulting, and project management, so every aspect of your new container home will be overseen by professionals. 
If you would like to support a family-owned business in the process of buying your new container home, JPW Shipping Container Homes is an excellent option.
You can choose to have your home built around a used shipping container to keep the price down, although JPW Shipping Container Homes also offers brand-new builds.
From the initial consultation to design and engineering, the company will see you through every part of the process. 
What makes JPW Shipping Container Homes stand out from the competition is the amount of experience the team has.
The team members have been in the construction industry in general for more than 25 years, but they also have a lot of experience with the shipping container industry specifically, so they'll know exactly what is required to build the best-quality shipping container home to meet your needs.
Bear in mind that JPW Shipping Container Homes doesn't only provide homes. They can also make container offices made from shipping containers, and the sizes range from tiny houses to full-size builds.
Crosthwaite Custom Construction is one of the biggest names in alternate dwellings across the U.S., but the company is based in Arizona, so if this is where you are looking for a container home, consider using this firm's services.
All the shipping containers used by Crosthwaite Custom Construction are repurposed, meaning that all the builds are eco-friendly and sustainable.
If you want the consultation process to be as quick as possible, you can choose from many blueprints and plans.
However, there's also the option of purchasing a customized design, in which case, you will work with a specialist to create your dream container home. 
You can also ask the company to arrange construction for you, or if you're up to the task, you can enjoy the rewarding experience of building your container home yourself!
BoxHub has been one of the go-to companies for shipping container homes in Arizona for many years now, and it continues to be one of the best designers and manufacturers of container homes in the state.
This container home manufacturing company can make your container home according to your preferences. You can take a look at some of the tailor-made homes BoxHub has created on the website.
BoxHub also helps to dispel the myth that choosing to live in a container home means going without modern amenities. Indoor plumbing and insulation, as well as other comforts, can be built into your design of choice. 
All container homes from BoxHub are made using corten steel, which is one of the best and most durable materials for making homes out of shipping containers.
No matter what size you want your container home to be, you can rely on Arizona-based company Gold Container Home to meet your needs.
Not only can Gold Container Home produce a home of almost any size, from the smallest of tiny homes to full-size living spaces, but they can build your container home in a wide variety of styles, personalizing your build to your tastes (see also "Tiny Homes For Sale In Maryland To See How You Could Be Living")!
All the container homes manufactured by Gold Container Home are made using the best quality materials and advanced engineering techniques that ensure maximum precision.
This means that not only will your container home be durable, lasting you for many years to come, but it will also look phenomenal.
You only have to look at some of the models on Gold Container Home's website to see how high-end the results are.
Another great thing about Gold Container Home is that since the company is based in Arizona, they make sure that all their homes are comfortable and livable in very high temperatures, despite their metal construction.
A lot of people assume that container homes can only work if you're looking for a smaller, private residence, but Adaptive Shelters proves that this is not the case!
Whether you're looking for a small home for a couple or single family, or a multifamily dwelling, Adaptive Shelters can make it work.
This company is known for building not only standard shipping container homes, but double-story units, student housing, and even homeless shelters, so no matter what you need, you should be able to figure it out with the help of this firm. 
Adaptive Shelters know that the process of buying and constructing a container home isn't always plain sailing due to building codes in different areas, so they make sure that all homes are designed and built to be in line with all legal requirements in your area.
The container homes built by Adaptive Shelters are so versatile because the company has perfected the art of stitching multiple containers together in a way that looks professional and seamless.
ModHous is an Arizona-based container home construction company that prioritizes affordability in its designs and services.
Therefore, if you're on a tight budget, this is definitely one of the top companies you should consider before making a final decision. 
If you look on the website, you'll see that some of the most basic shipping container models only cost a couple of hundred dollars, so this is perfect if you're looking for a simple container home that you can easily afford.
With that being said, ModHous also offers plenty of other, more customized options for higher-end prices if cost isn't an issue. 
As part of the service ModHous provides, you'll be taken through all the safety guidelines you need to know before finalizing your purchase, and you'll also be guided through the essential aspects of container home maintenance.
This helps to ensure that even though your container home will be more affordable than most on the market, it will still last you a very long time thanks to being well-maintained, following expert advice. 
Our final container home company recommendation in Arizona for today is High Tech Containers & Steel Structures.
This container home company specializes in constructing luxurious interiors for small spaces, proving that living in a container home doesn't mean you have to sacrifice comfort or style.
Not only are the container homes produced by High Tech Containers & Steel Structures durable and practical, but they're high end and affordable at the same time.
Whether you want artistic interior decor or fancy light fixtures, High Tech Containers can make it work. 
You can add extra modules onto your container home during the design process, or after construction.
This means that you can pay for a single module to be built initially, and if you later find that there's not enough room after trying it out, you can ask for more modules to be installed for an affordable and easy home expansion. 
It's also worth noting that the majority of this firm's container homes are smart homes, meaning that all your lighting and home technology can be controlled remotely using a smartphone or other compatible device.
Final Thoughts
Purchasing a container home in Arizona couldn't be easier!
There are several different Arizona-based container home companies willing to take your project all the way through from the initial consultation to an extensive design process and, finally, the construction itself. 
Whether you're on a tight budget or looking to splash out on a multistory smart container home with the latest technology, there's a firm in Arizona that will suit you perfectly.
Remember to inquire about legislation and building codes in your area ahead of time.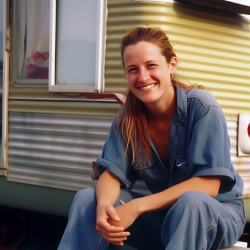 Latest posts by Casey Rutherford
(see all)