Container homes are unique homes that aren't built in traditional ways and are instead made from shipping containers!
Some homes may only be a single 20-foot container but others can combine several containers together to make more sprawling homes that remain compact.
Container homes are becoming increasingly popular due to their cost-effectiveness, uniqueness, and the freedom they give their owners.
Airbnb is a company that allows anyone to open up their properties for short-term vacation rental.
Although many of the properties on Airbnb are your more typical vacation properties, the site has many options that are more unusual and full of character for guests to choose from as well.
If you're tired of apartments and houses, then Airbnb has options for you.
This is why it's no surprise that many container homes are also available for booking on Airbnb.
Staying in a container home will give any guest a unique experience! If interested in container homes, booking one through Airbnb will give you a closer look at how they're constructed and the potential possibilities of making your own.
If you just want an unforgettable experience, then you're sure to get that as well!
Here are 10 incredible container homes on Airbnb. We've picked a variety of locations so whatever vacation you're looking for, there should be an option for you.
Let's get started.
Location: Rising Fawn, Georgia
If you want to escape to the mountains, then this container is a great choice for you.
It's located atop Lookout Mountain in Georgia and will give you stunning mountain views.
It's a tiny home so it is only suitable for two people at most, but is fully equipped with a kitchen and bathroom and you will have access to a dedicated parking space (see also "Tiny Homes For Sale In San Diego").
It's intended as a quiet getaway from the hustle and bustle of everyday life so there is no WiFi or TV available. It's also not suitable for pets or young children.
However, you can enjoy a peaceful stay around the firepit or front porch bed swing.
Location: Columbus, North Carolina
This container home is all about luxury and style. You'll find it in Green Creek, a rural part of North Carolina that provides beautiful views of the natural landscape.
There is an open-air deck on the property which is perfect for entertaining as it has a fire pit, hot tub, grill, and even a ring toss game!
Inside, the containers are well-equipped. It has fast WiFi, a Smart TV, and games to play so you won't need to worry about getting bored during your stay.
The kitchen is fully equipped as well with all of the utensils you need and has a coffee maker but no oven.
Location: Waco, Texas
Although tiny, this container home has all you need for a comfortable and relaxing stay. It's one of the most budget-friendly options on this list as well, so if you're looking for a container home vacation but don't have a big budget, why not make the trip to Waco, Texas for this home?
The container is stunning both inside and out and has a modern decor that makes it look fresh and inviting.
There isn't much space so it's best for a solo traveler or a couple that doesn't mind bumping elbows at the breakfast table! It does have a full-sized bathroom, however, and the kitchen has a Keurig to make sure you get your caffeine fix.
The roof of the container has been converted into a deck so you can relax and enjoy your surroundings.
Location: New Plymouth, Ohio
If getting back to nature is one of your primary goals, this shipping container located in the middle of the Hocking Hills and Lake Hope State Park will help you with that goal.
As the name suggests, this shipping container has been renovated to have a cottage aesthetic and has both a front and back patio so you can relax outdoors.
The back patio is covered and is equipped with a hot tub, furniture, a gas grill, and a macrame swing. Inside the container, you will find a variety of modern conveniences including a well-equipped kitchen, Roku TV, and coffee bar.
Location: Manitou Springs, Colorado
Finding container homes that can take bigger groups or families can be tricky, but this modern cabin in Colorado has two bedrooms and can host up to five guests.
It's also one of the few container homes that are pet friendly and accepts pets as well!
The container is equipped with WiFi and ChromeCast to keep you entertained. It also has a large number of other amenities including a washer and dryer, dishwasher, stove, and coffee maker.
It's not as remote as some other container homes but is still close to nature.
Location: Las Vegas, Nevada
When most people think of vacations in Las Vegas they don't think of container homes, but this tiny house may change that! It's one of the most budget-friendly container homes you'll find on Airbnb as well.
It's not a place for quiet reflection and remoteness as it is on the same plot as the owner's home, but you do get full privacy throughout your stay.
The container home is beautifully decorated and makes the most of its small space. It has a large flat-screen TV with access to Netflix, a full-size shower, and a fitted kitchen with bar seating and a variety of appliances.
Location: Orderville, Utah
Located near the East Zion Elkheart White Cliffs and some alfalfa fields, this container will give you some stunning views. It's a luxurious container that makes the best use of the space available and is full of modern conveniences.
WiFi is available, as is a TV with all of the usual cable and satellite options.
The kitchen is well-equipped with a stove and coffee maker and you will also have the use of a washing machine and dryer. Outside the container is a patio, BBQ grill, and a hot tub so you can relax underneath the stars and unwind.
Location: Ladonia, Texas
This container home really needs to be seen to be believed!
It really is a treehouse made out of containers as instead of laying them all on the ground horizontally, the owners have instead arranged a couple so that they stand vertically to give a tall, multi-story, home that is as unique as it is stunning.
From the top of the treehouse, you will be able to see for miles and can appreciate the breathtaking views of Ladonia. The container has two bedrooms and can accommodate four guests.
It has several amenities including to help you enjoy the outdoor space such as a hot tub, fire pit, outdoor kitchen, and grill. The inside is equally well-equipped.
Location: Logan, Ohio
This is another small container home that makes the most of its space. The home is in the Hocking Hills area of Ohio and is located on 30 acres of woodland, making it great for a quiet getaway.
While at The Lily Pad, you can enjoy WiFi, an HDTV, and a collection of board games to keep you entertained. There is both air conditioning and an indoor fireplace, as well as a fire pit outside.
The kitchen is well-stocked and has a coffee maker as well.
Location: Guadalupe, Baja California, Mexico
Container homes aren't exclusive to the United States as this next pick proves. If you're looking to travel south of the border and want to stay in a container home, then this option in Guadalupe should definitely be considered.
You'll have stunning valley views and air conditioning to cope with the Mexican geat.
It's larger than many of the container homes on this list as it has two bedrooms and can host four guests.
The containers have been renovated to such a luxurious extent that it's hard to believe they started life as ordinary shipping containers! The home includes WiFi and a kitchen, but there is no TV or washing machine available.
Final Thoughts
In this article, we introduced 10 incredible container homes that you can find on Airbnb (see also "Incredible Container Homes In Arizona For Free Living"). Although all of our picks are made from shipping containers, they are all very varied and cover a wide range of locations, styles, and price points.
Some of the options are as luxurious as any hotel room whereas others are a tight, but comfortable, fit!
Most of the homes are within the contiguous United States but we did include an international option as well for anyone that has their passport ready.
We hope you enjoyed this list of Airbnb container homes!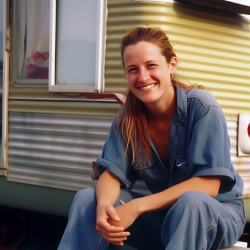 Latest posts by Casey Rutherford
(see all)