Building a shipping container home comes with a ton of benefits. Therefore, you'll want to make sure you're doing all the necessary research beforehand to get the best products.
The advantages of a container home include quicker construction, reduced material waste, and a modern home aesthetic.
Since Hawaii is an island, individuals looking to purchase a container home may not have the same access as people on the mainland.
That said, the benefits of container homes, as well as the combined ease of transport from the mainland, make shipping these containers an attractive option.
If you're looking to build your own container home on the island but are not sure where to start, well, you're in the right place.
To make things easier for you, we have combined the best shipping container home builders in Hawaii which can be built in all the main cities, including Hilo, Honolulu, and Pearl City.
In addition to helping you find the best companies, we have also outlined some frequently asked questions when it comes to building container homes in Hawaii.
With this in mind, this article will explore the best container homes in Hawaii for free living.
Let's get started.
The Cost Of Container Homes In Hawaii
In 2022, Hawaii was found as the most costly state in terms of rent, according to a survey by Statista. Here, renters would have to work nearly four full-time jobs to afford the rent of a two-bedroom apartment.
However, what if there was a cheaper alternative? Something small yet affordable and comfortable at the same time? Well, this is where container homes come in!
Generally speaking, container homes in Hawaii cost around $250-$300 per sq ft. Although, this is dependent on the materials used and the scope of the project.
However, if you purchase all the materials to make your own container home, it can be significantly cheaper, ranging from $130-$175 per sq ft. This is a similar price to other container homes in the United States.
If you're looking to hire a contractor to help build your container home, then this may be slightly more costly. However, you're guaranteed quality when built with a contractor.
That said, of course, you'll save money if you opt for building your own container home, too. Although, you should keep in mind additional costs such as labor expenses, tools, and supplies that could increase your total project cost.
The Best Container Homes In Hawaii
This stunning 355-square-foot container home features a large kitchen with tons of counter space and cupboards. Plus, there is even a separate living room located on the main floor.
What's more is that the tiny home can even accommodate the space required for a refrigerator, dishwater, and other kitchen appliances you may require (see also "Tiny Homes For Sale Utah You Should Check Out").
Plus, if you have someone else living with you or looking to have guests stay over for the night, then don't worry. This container home features spacious lofted bedrooms – with enough room to accommodate four people.
In addition to this, some standouts feature a 48" shower (or a 60" shower or a tub shower), as well as the option to add on a mobile porch.
For this impressive container home, the price starts at $44,900, and is built by Tiny Pacific House.
The company behind the plug-and-play KBOX modular container home is Kasierworks. Here, they offer two modern house design plans for either an ADU or a small home (360 or 480 square feet).
Examples of their work include the KBOX 360.
If you're looking to purchase a container home from KBOX, the turn-key cost estimate is between $354-$500+ per square foot.
At $259,000 USD, while this container home may seem pricey at first glance, what you get is a modern design layout that is completely furnished with a custom kitchen, furniture, staircase storage, insulation, flooring, and everything else you could require from a home.
Plus, thanks to its built-in breakfast bar, you can even enjoy your meals outside in the beautiful Hawaiian sunshine – the perfect place to enjoy the tropical vibes of Hawaii.
The home itself measures 260 square feet and features one bathroom and bedroom. Some standout features include a skylight above the shower, a breakfast bar, and glass windows.
The manufacturer Kubed Living specializes in both commercial and residential container homes.
Here, you can choose from seven pre-designed container homes or you can even work with a team to create a custom-built home.
When it comes to their pre-designed residential homes, most of the containers are joined together to create various home sizes.
Their pre-designed homes come in sizes ranging from 240 to 960 square feet. Plus, they even offer customers turn-key project management services where you can personally supervise each phase of the construction process.
The estimated cost of building a container home from Kubed Living ranges from $350-$500+ per square foot. An example of their work is the K640.
If you're looking for an expandable container home, then you can't go wrong with this tiny Maui home. It is constructed using a 20-foot-long container that can be extended to create a total floor space of 390 square feet.
In addition to this, it features a strong steel frame coating the entire container, a kitchen with a double sink and faucet, stone countertops, vinyl flooring, a vanity with a mirror, and much more.
Plus, you can also opt to include an optional sustainable waste management and solar panel system for green living. That said, you should keep in mind that these features come at an additional cost.
For $103,000, you'll be provided with three containers, one bedroom, and one bathroom.
Steelblox manufacturers prefabricated commercial homes and buildings. While they sometimes build using shipping containers, they also use steel framing and structural insulated panels (SIPs).
They offer a range of products including apartments buildings, commercial buildings, and single-family homes.
Plus, depending on the project's design preferences, you can either opt for one of their pre-engineered projects or work with one of their in-house design teams to completely customize your container home.
The estimated cost of one of Steelblox's container homes is between $350-$500+ per square foot. An example of their work includes Custom Residential.
Luckdrops provides you with contemporary, small container homes that can be used as tiny homes or accessory dwelling units (ADUs).
One of their models includes the "Studio+" which comes with a fully furnished bathroom, kitchen, modern design, and 287 square feet of living space.
Thanks to appropriate delivery access, the beauty of this shipping container is that it can be shipped anywhere in the world.
The estimated cost of one of their container homes ranges from $170-170+ per square foot.
The Best Container Home Builder In Hawaii
If you were interested in some of the house plans outlined above, then you may want to look into some of the best container home builders in Hawaii.
Below, we have outlined the best shipping container builder in Hawaii to make your construction process easier.
Paradise Tiny Homes
Since 2019, Paradise Tiny Homes has been a top shipping container company (see also "Tiny Homes For Sale In San Diego"). The company was set up by a brother and sister who had a goal of building unique spaces for those looking to invest in unique living spaces.
Typically, their container homes are built-to-order accessory dwelling units. Plus, their units can be used for guest houses, rentals, office spaces, vacation homes, and even coffee shops!
They currently have four models of container homes which range between $165,000 to $269,000 – each home comes fully furnished.
Are Container Homes Legal?
Similar to other states in the United States, container homes are legal to build in Hawaii, too. However, there are a few considerations to keep in mind before building one.
For instance, when deliberating on zoning issues and permits, you must apply for an extensive building permit for your container home.
The only exception is if you're building your home on an agricultural area or a zoned farm/ranch. Otherwise, you need a building permit.
Plus, since container homes have a smaller carbon footprint than standard construction buildings they are exempt from certain rules or can qualify for incentive programs, including conditional use permits (CUP) or energy cost credits.
With container homes becoming more and more popular, the regulations of such homes are sure to evolve with time, too.
Final Thoughts
The next alternative housing trend at the moment is container homes. Not only are these generally much cheaper than traditional homes but they are more environmentally friendly, too.
If you're looking for the best container home for you, well, you've come to the right place. Here, we have provided a list of the best container homes in Hawaii.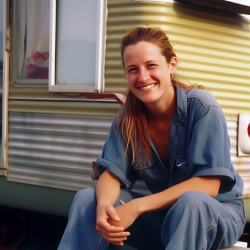 Latest posts by Casey Rutherford
(see all)