There are many reasons why you may want to own a container home in California. The rising costs of the property market have led many people to think outside the box when it comes to finding affordable living solutions.
And, one of these creative solutions that has gained popularity in recent years is the use of shipping containers to create unique and sustainable homes. 
With their modular design and durability, shipping containers are an ideal building material for those looking to live off the grid or simply embrace a more minimalist lifestyle.
If you're interested in getting the ball rolling on your container home journey, we are here to help with 4 incredible container homes in California that are sure to inspire your own living space dreams (see also "Incredible Container Homes Airbnb").
From sleek, modern designs to rustic, eco-friendly builds, the container homes featured in today's list showcase the incredible versatility of these magnificent homes (see also "Incredible Container Homes In Michigan For Free Living").
There's a container home out there that will fit all needs and style, and they are a great way of living sustainably.
So join us as we explore some of the most innovative and inspiring container homes in California – who knows, you just might be inspired to build one of your own.
Are Container Homes Legal In California?
Before you start your container living dream, you need to ensure you're doing so legally. Fortunately, in California, shipping container homes are legal.
However, there are some restrictions as they must be built according to building codes and zoning regulations. If the construction meets these requirements, then it can be modified into a residential unit. 
It is worth noting that California is one of the most urbanized and expensive states with strict land laws.
That being said, the state is considered progressive in the real estate industry, making it an excellent place to set up a container home for free living. 
California is certainly pretty liberal when it comes to shipping container homes, as long as the construction of them falls in line with the law.
Some zones are more regulated than others, though, but for less regulated zones, the north coast and inland are considered ideal for container living. 
So, if that has got you hungry to get started on your new container life, let's dive into 4 incredible container homes in California to inspire you today (see also "Incredible Container Homes In Hawaii For Free Living")!
1. Modern Container Home On Steep Slope 
This is a perfect example of what you can do with a modern container house. This is built on a steep slope and, depending on where you construct yours, can overlook a scenic valley, seascape, or mountain range.
The house is constructed primarily from shipping containers that have been modified and repurposed to create a unique living space. The containers are arranged in a staggered pattern, creating different levels and sections of the house.
The exterior of the home features a combination of metal siding, wood paneling, and large windows that allow for plenty of natural light and stunning views of the surrounding landscape.
The house also features a large outdoor deck that extends out from the living area and sits atop the container. This provides additional space for relaxing and taking in the view.
The steep slope of the terrain has been incorporated into the design of the house, with the house built on solid foundations that are most likely made of concrete. These have then been molded to fit the contours of the slope.
This container house is a beautiful example of modern architecture and innovative design, combining functionality with arty designs to create a stunning and unique living space.
2. Lucia Container Home
The Lucia Container Home is being hailed as California's biggest shipping container home project to date.
It consists of 14 repurposed shipping containers that were utilized to build a family complex on a single lot measuring 6,000 square feet.
The complex is situated in the picturesque Blue Zone community in South Redondo Beach, California.
Above shows the exterior of the Lucia Container Home, which is a multi-story house constructed from 14 upcycled shipping containers.
The house features a modern, industrial design, with metal siding and large windows that provide plenty of natural light, giving it a unique, edgy look.
The house is situated in a residential neighborhood, with houses and trees dotted around the vicinity.
There's no doubt, though, that this Lucia Container Home stands out from the other houses in the area due to its unique design and use of materials.
The house has multiple levels, and on the first level, there is a covered outdoor space where you can lounge back, relax, and enjoy the outdoors.
The Lucia Container Home is a great example of how shipping containers can be repurposed to create unique, functional living spaces that are both stylish and eco-friendly.
3. Prefab Home
Stylish, sleek, and somehow cozy at the same time, this prefab container Airbnb in Pioneertown, California is a testament to how creative you can be with container homes. 
Built using several shipping containers that have been reused and modified to create a distinctive living space, the exterior of these containers feature metal siding accents, creating a modern and natural look.
The house also has an outdoor decking/patio area that provides additional outdoor living space and fantastic views of the surrounding, rugged landscape.
Although not clear in the image, the interior of the home is surprisingly open and spacious, like many container homes are.
It has an industrial feel created by exposed metal beams and ductwork. Its large windows and sliding glass doors provide plenty of natural light and views of the great outdoors.
The living space includes a kitchen, dining area, and living room, and there are two bedrooms and two bathrooms. Although not traditional builds, container homes can be just as convenient, with the scope to add more rooms if needed.
Stylish and innovative, this prefab container is a perfect example of modern architecture, showcasing the endless possibilities that come with container homes.
4. Luxury Two Story Shipping Container Home
Looking like something a Hollywood star owns, this luxurious two-story container home is one of the best examples we have ever come across. 
This luxury two-story container home located in California may look like it's designed to cater to celebrities, but it acts as inspiration for how containers can look.
The house is constructed from several shipping containers, which have been repurposed and modified to create an elegant and unique living space.
The exterior of the house features a modern, sleek design with a combination of metal and wood paneling, along with large windows, and stylish decking.
And, the added pool just heightens its glamour! Wherever this container is situated, it would look incredible.
The interior of the house is open and spacious, with an industrial feel combined with more rustic elements thanks to the wooden ceilings.
The large windows provide plenty of natural light and allow you to enjoy the views outside (though we'd just like to sit outside and look at the container!)
Inside seems to be very cozy yet still spacious, making it ideal for a large family. The wooden staircase is a focal point of downstairs, adding to the blend of its industrial design with something more traditional.
Whether you're inside this container house or lounging by the pool, it is the perfect place to entertain family and friends.
Whilst this luxury two-story container home is one of the more extravagant in California, it shows how much you can do with shipping containers. And, it is likely a lot cheaper than a traditional build, but with a similar aesthetic appeal.
A beautiful example of modern architecture, this container home combines functionality with aesthetics to create a stunning living space.
Why Get A Container Home?
There are numerous reasons why container homes should be considered as a viable living solution. For instance, they are cost-effective when compared to more traditional construction methods and more sustainable.
By reusing old shipping containers, your construction process is environmentally friendly and produces a lower amount of waste and energy than most other construction methods. 
Moreover, shopping containers are typically made from strong, durable steel, making them resistant to extreme weather conditions, pests, and other external factors.
You can also customize them to fit your specific needs and preferences. And, if you want a new home quickly, some containers can be ready within a few months, or even a few weeks, rather than years. 
In Summary
California is a great place to start your container home life.
It is home to some of the most beautiful landscape the U.S. has to offer, and its rules and regulations surrounding the construction of containers are quite liberal compared to other states.
Like the look of any above? We hope they have inspired you to build your new dream container home.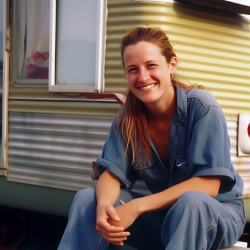 Latest posts by Casey Rutherford
(see all)