In recent years, the prospect of living in a container home has become a more desirable one, especially for those who are looking to escape the mundanity of everyday life, and swap their traditional housing for something more freeing and unique.
Michigan is a state that is rich in natural beauty, so it makes sense that many people are considering ways to immerse themselves in nature more, and an eco-friendly container home is an excellent way to do so, without compromising on all of the home comforts that you would usually find in a house.
In this article, we'll provide you with a closer look at some of the most incredible container homes in Michigan that you can live in for free living, so if you've been thinking about a change in your lifestyle, then these container homes will surely be the change you need (see also "Incredible Container Homes Off The Grid For Free Living").
So, let's get started!
Situated in Grand Rapids, Michigan, Blox was formed back in 2013 to help breathe new life into old, disused shipping containers, providing them with a new life in the form of different architectural styles.
Since then, Blox has gone on to create a variety of different buildings and structures out of shipping containers, making everything from containers used by restaurants and businesses, as well as residential structures too.
Their portfolio goes beyond even this too, as they've also created smart homes, floating tiny homes, concessions, offices, and even swimming pools using their containers, so they really can make anything you could imagine with these containers (see also "Tiny Homes For Sale Utah You Should Check Out").
Their showrooms allow prospective customers to render their custom plans in real life, providing them with a much better idea of what their finished container will look like, and what it is actually like inside the containers.
For those who are looking for a container home to be lived in and used all year round, then customers will appreciate the Beach Bum 2-Bedroom container home.
This container home is designed to be an open and airy home that serves as an excellent starting point for young families. 
The floor plan of this container home aims to give its inhabitants a relaxed space that still features all of the necessary creature comforts required from a living space.
The floor plan is also not particularly complex, which makes it much easier for you to imagine what it would look like too. 
Prospective customers are also able to configure whether or not they'd prefer drywall or metal paneling on the inside, as well as the fit-out of the container too.
This structure uses three different 20-inch containers, providing 510 square feet of space. There are 2 bedrooms, and 1.5 bathrooms, which should be everything you need in your first home.
The cost of a container home from Blox can vary greatly, especially since they put different fees in place for different steps of the work, but you can be sure that the finished product is going to be completed to the highest quality!
Founded in 2009, Three Squared Inc. is widely considered to be one of the first container home creators in Michigan, which means that for anyone seeking a bespoke container home in Michigan, that Three Squared Inc. is certainly the company to contact to visit if you're looking for plenty of experience.
Although they are considered to be a luxury container builder, they produce a variety of different container-based structures, including mixed-use properties, residential, and even multi-family structures too, all at a reasonable price, which means that building a container home of your own is much more accessible than you might think.
The in-house architectural design team will help to ensure that whatever design you decide to go for, that your container property is outfitted with everything you could need, all while remaining perfectly stylish.
Alongside their excellent design team, Three Squared Inc. also ensures that they provide plenty of help with the management and meeting of the technical requirements, starting right at the beginning with the pre-design phase, all the way to the construction stage.
One of the biggest reasons that people decide to build with Three Squared Inc. is thanks to their 100% success rate at securing municipal approvals.
If you're looking for one of the best examples of Three Squared Inc's incredible work, then look no further than the 5-bedroom Box Hop Hygge, which has been designed to be used as an off-grid vacation rental, and demonstrates just how flexible construction using shipping containers can truly be.
Through its construction, this property makes use of four 20-inch containers, as well as three 40-inch containers, which forms the expansive property, with four private balconies, as well as two floating fireplaces, a huge sauna, and even a hot tub.
This property is all about reconnecting its inhabitants with nature, and if you're looking for a container home that is going to allow you to live freely, then you should consider contacting Three Squared Inc to help make your dreams a reality!
Just like many of the other various container home companies, ModEco development is committed to producing unique and specialized homes for people who are looking for something completely different from their living space.
To ModEco Development, the one-size-fits-all approach to housing simply doesn't work, which is why they want to provide people with the opportunity to experience what it is like to put together and customize their living space exactly the way they want to.
So you can create a custom home that is tailored to you and your tastes, and delivered right to where you want it. 
They can make anything you'd like, right the way from a tiny home designed for one person, all the way to an entirely new construction, so the world is your oyster when it comes to creating the perfect home with ModEco Development.
ModEco Development has a vast array of different properties in their portfolio if you're interested in some of their previous work, including a mobile transforming boutique, shipping container crop grow house, and of course, plenty of residential properties too.
They also have a range of prospective projects listed, which could be your next home!
The one we've decided to highlight is the Harris, a 2-bedroom container home that features between 1,000 and 1,4000 square feet of living space, as well as 2 full bathrooms, and even a garage that is suitable for 2 cars. 
For a small family or a retired couple, this home would provide the perfect living space, especially for those who are looking for something more personalized and suitable for their own needs.
So, if you're in the Michigan area, and are considering a container home for free-er living, then ModEco Development is a company that will be worth researching to help realize your dreams of living in a container!
Final Thoughts
We hope this guide to some of the incredible container homes in Michigan has been useful.
The thought of uprooting yourself from a traditional home into a container home can be a slightly daunting one, but hopefully, this guide has shown you that container homes can be just as comfortable as traditional ones. 
The options for container home builders in Michigan are slightly limited, but between the three companies we've highlighted, you should have no issues choosing a suitable builder for your new home.
If you've got any questions about container homes and Michigan, then check out our handy FAQ guide below, where we'll answer some of the most common questions on the topic!
Frequently Asked Questions
Are Shipping Container Homes In Michigan Legal?
One of the biggest concerns that many people have about container homes is whether or not they're considered legal in the state they currently reside in. 

For those in Michigan, there's no stress, as container homes are completely legal. However, the stress isn't over just yet.

Regulations on these homes can vary depending on the area, so it's worth researching the zoning regulations in the area you plan on placing your container home in, and contacting the local authorities to check that everything is as it should be. 
How Long Do Container Homes Last? 
The lifespan of a container home can depend on some factors, but the general rule is that if the shipping container has been used throughout its lifetime, then the container home will typically last for 15 years before requiring any major maintenance.

On the other hand, brand-new containers used for homes will last for a decade longer, so a total of 25 years, before they should require any work. 

Of course, this entirely depends on the climate too. So it's worth considering this before you decide on a container for your home.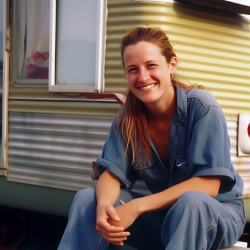 Latest posts by Casey Rutherford
(see all)